Fireside chat with Jemima Monies //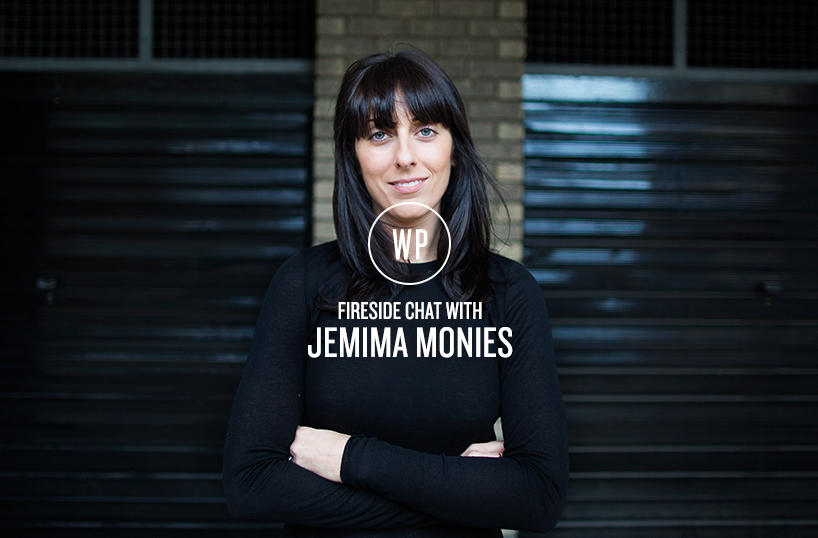 Here in a column for To Work Or Play, digital marketer Lauren Ingram (@fakebananas) interviews a series of successful women in the advertising and digital industries. First up is Jemima Monies, who heads up New Business and PR efforts for adam&eveDDB, where she reports to the MD Tammy Einav and spends a large chunk of her time working on inbound new business leads.
Hi Jemima. Thanks for agreeing to be involved with To Work Or Play, we're delighted to have you.
You started out as an Editorial Assistant for Marketing Magazine. What was it that drew you to the marketing industry, or did you plan on pursuing journalism?
I did a degree in English and wanted to be a journalist. I did work experience at Marketing magazine where I wrote a feature on the top 20 ads of all time. It got me intrigued about the industry and also a job. I worked my way up to Deputy News Editor but after a few years I realised I wanted to be doing what I was writing about.
I wrote a top three list of agencies I wanted to work for and I couldn't believe my luck when I got a job as Marketing Manager at my top choice, MCBD. Suddenly I was on the other side of the fence, which was fun as it meant dealing with my old colleagues, but also a big eye opener into what agency life was really like. It wasn't all glitz and glamour, which it had seemed at times, but also long days and hard work. I loved the creative culture though and it immediately felt like the right environment to be in, and still very much does.
You also worked for Haymarket in Sydney. How did that come about?
While I was at Marketing, I went there on holiday and absolutely loved it. I had never lived abroad and vowed to go back. It was at that time I wanted to get into advertising so I handed in my notice with the aim of getting a job at an agency out there. My Editor, Lucy Barrett, was really supportive and helped me get a job at Haymarket in Sydney for when I arrived. In the end I only stayed nine months before going off travelling. I came back and got the job at MCBD.
You've been at adam&eve for three years, which I believe have been adam&eve's best years so far. What's your secret for such a stellar agency reputation?
Our people. I work with some of the best and most passionate people in the business, who are truly dedicated to producing brilliant creative work. And this work speaks for itself. We are also an agency that thrives on working with new brands and businesses. New business was the lifeblood to the start up adam&eve and this is still true of our culture today.
The agency has become synonymous with the John Lewis Christmas ads. Which other campaigns are you particularly proud of and deserve more attention?
I'm proud of all our work and our people who work so incredibly hard to make it. There is nothing more exciting than seeing an idea, which you initially heard about over a cup of tea, come to life and being talked about all over the world.
What is James Murphy (adam&eveDDB's CEO) like to work with?
James was one of the reasons I wanted to work for adam&eve. I had met him when I was a journo and he was still at Rainey Kelly. He was really impressive and genuinely passionate about the industry. I was fairly nervous before my interview with him but he's actually very down to earth and also lots of fun. He's also the ultimate king of New Business. He loves pitching and has the most phenomenal track record so I have learnt a great deal from him and continue to do so.
What do you think it takes to be a brilliant new biz person?
The best New Business people are brilliant all-rounders. You need to have a combination of strategic and creative skills, proactivity and reactivity, and a fine balance of tenacity and sensitivity. It's ultimately the New Business department's role to carefully pull the strings behind the scenes to ensure that the best group, presents the best face of the agency, every time, every meeting.
Cultural fit is also important to me. New Business is essentially the front door to the agency, so it's important our New Business people embody our unique culture and way of working.
You also work on marketing for your husband's ice cream business. How do you make the time to do both?
Moomaid is made on my husband's family farm in Cornwall so when I'm down there, there is definitely a surge in social activity. I'm going off on maternity leave soon so expect to see a lot more from Moomaid then!
What advice would you give to a grad wanting to work for one of the big boys like adam&eveDDB?
Get yourself work experience and then offer up your services to the New Business team. They will always need a spare pair of hands and it's a good way to get noticed by management. In fact, consider starting off in New Business – we are a small pool so there is a great opportunity to move up the ladder quickly.
With thanks to Jemima.
————
Words by  – Lauren Ingram. Give Lauren a shout out on Twitter or check her out on Instagram.