How to Keep Busy When You're Not Working //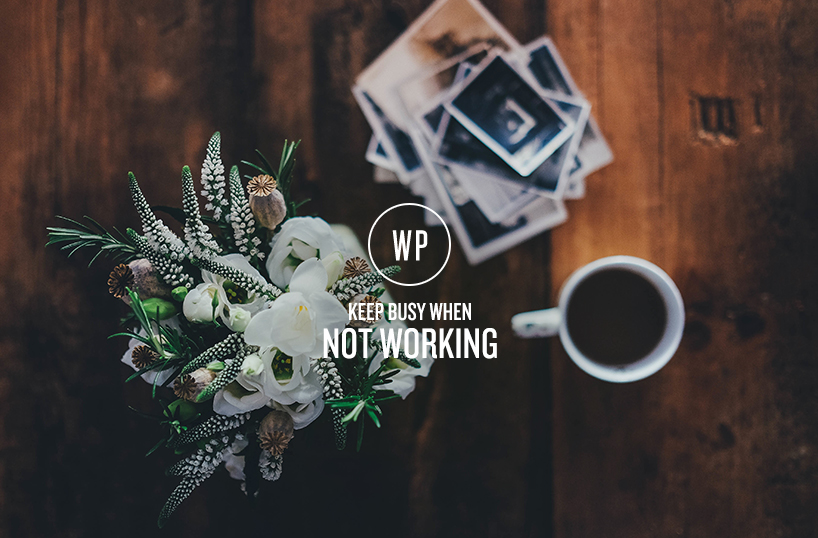 When you're not working it can be hard to keep up motivation. In this post guest writer Sophia gives some tips on being productive with your time. 
Towards the end of 2015 I made the decision to leave my job, in pursuit of finding out what it was that I really wanted to. I was (and am) still living at home and thought that if I was ever to going to make more of myself, I needed the fear of not having a job to push me. I'd saved up a fair amount so that when the time came I had money behind me to pay the bills or to pay for travel into London.
Two days into my unemployment and I was on the cusp of a meltdown. I bitterly regretted handing in my notice and couldn't help thinking that I'd made the wrong decision. I signed up to several recruitment agencies and decided on doing some temp-work until I figured out what I wanted to do. It proved hard to begin with and I felt that I was having to hound the agencies to get just a few days work a week. It all felt like a terrible mistake and misjudgement on my behalf.
By two weeks in I was practically tearing my hair out. I was so bored and frustrated that I couldn't even think straight. I felt like a failure and that I was a burden on my poor parents, who had to deal with my mood swings and erratic behaviour. But just when I thought that was it, that I was doomed to be unemployed forever, things started to pick up. And with just that small promise, my frame of mind changed and I felt more determined than ever.
Soon enough, I was back on my feet and have now been in regular employment since December last year. I've had about four lengthy temporary positions, with my latest placement lasting 3 months. One of the biggest benefits of temp work is that you are getting paid, but still have time to figure everything out. If I had still been in permanent employment I would never have had the time to realise my strengths and act on them. I began writing book reviews and applied to write for a few lifestyle websites. Two months on and I had been published in three online magazines.
Keeping busy when you are unemployed is crucial. It keeps your mind healthy and allows you to concentrate on the bigger picture. Here are some tips that I learned along the way, and found to be very helpful:
Plan your day
Set an alarm – obviously if you haven't got anywhere to go this could seem pointless but if you make sure that you are up at a decent time you will feel like you have a purpose for the day.
Allow yourself an hour or two to relax – whether it's watching This Morning, reading a book or listening to some music, a bit of time out is much needed when you're feeling stressed out about work.
Give yourself a time frame to apply for jobs and speak to recruitment agencies – it's not productive to sit at your computer all day, applying for endless jobs and signing yourself up to things that you don't really want to do. Have an hour of searching and applying and then have a short break to allow yourself to recuperate.
Exercise
It's so important to stay active when out of work. Exercise helps the body to release endorphins resulting in you feeling happier. Not only is it good for your mind, but it stops you from worrying or stressing and you get some clean, fresh air into your lungs. It gives you a moment of release and acceptance. Even if it's a walk around the block with the dog or into town for a coffee – it all helps.
Sort out your finances
When you're out of work, all you tend to think about is money; where it's going to come from and how much you're spending. It can become obsessive, so turn this into something productive. If you haven't already, set up a savings account and give yourself a goal. Aim to have saved £50 by the end of the month – even a smaller amount will make you feel like you have achieved something.
Get networking
Whether it's LinkedIn, Twitter or Facebook – use social media to your advantage. Advertise yourself, brush up on your interview skills and get talking to people. You never know who might know of a job that's perfect for you.
Most importantly – enjoy the free time
This is one thing that I wish I had done more of – appreciate the freedom. You can make yourself Masterchef lunches (by that I mean toasted sandwiches), catch up on a TV series that you hadn't had the time to watch, or spend some time with family. Time alone is good for you. Just a few hours alone a day can really help to recharge your batteries.
If you're thinking of leaving your job, I would say DO IT. Be prepared for the sleepless nights and chronic worrying, because it will all be worth it in the long run.
————
Words by – Sophia Chettleburgh
Visit Sophia's portfolio here to view more of her work. Alternatively ask her questions on Twitter here.