Instagram Themes: The New Portfolio //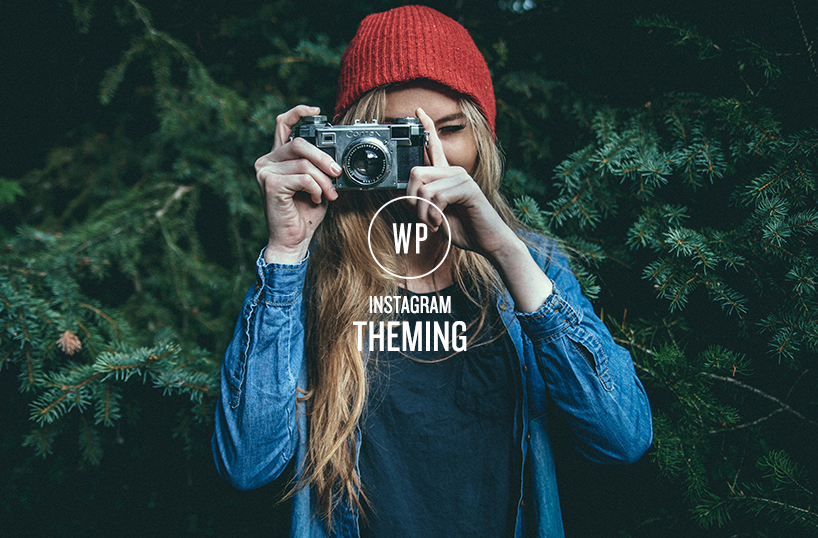 Do you have a theme for your Instagram account? Nat looks into the users making our newsfeeds look pretty and why they have decided to be creative with their profiles.
I've recently started styling my Instagram account. This may seem strange to many folk, but it's widely believed that as a designer your social presence is an extension of your portfolio. Like anyone I'm fond of the cat snap, food pic and occasional #selfie, but it's time to do something productive with my profile and give it a theme.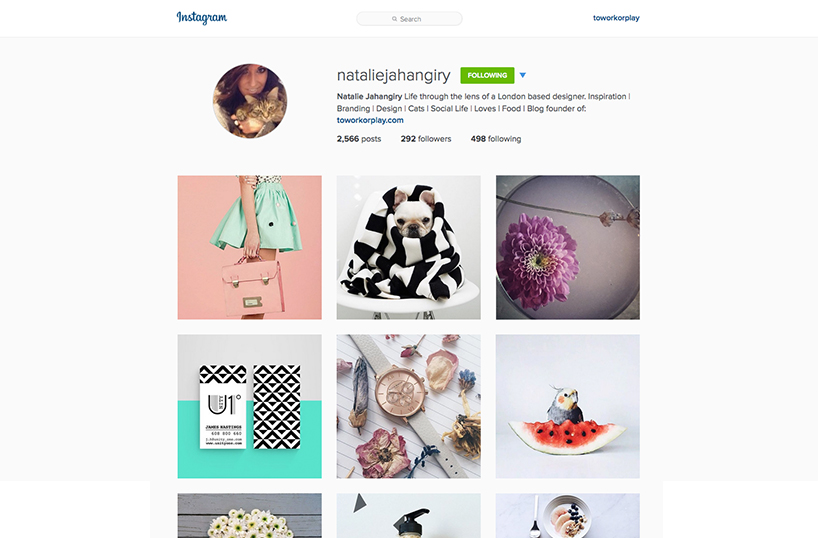 After reading Firuze's post on minimal Instagram accounts (view here) and in my pursuit to find inspiration, I came across some rather beautiful, weird and wonderful users, who have done some really creative stuff with their pictures. There are thousands of beautiful accounts out there, but here are the ones that I thought to be particularly brilliant:
@julieskitchen
Theme: Food displayed in beautiful ways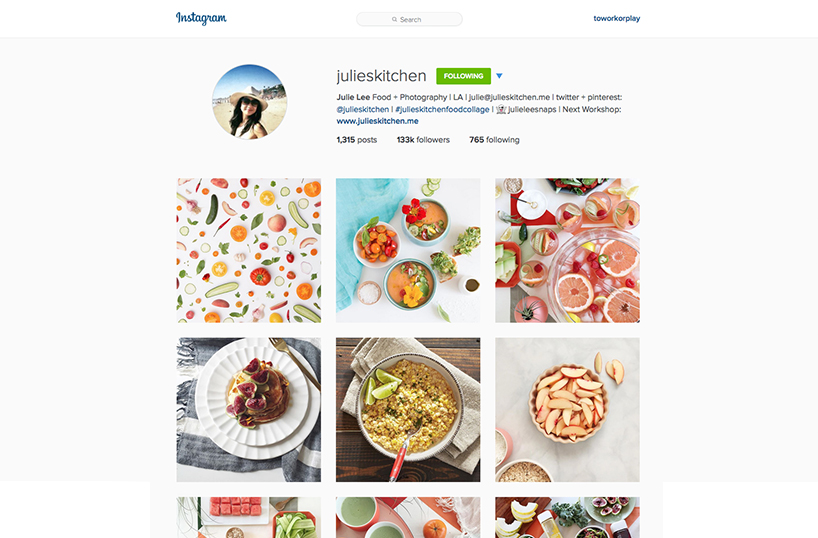 A feast for the eyes. This theme, if you haven't already guessed, is based around food from a lady called Julie and inspired by the Santa Monica Farmers' Market. On Julie's Blog she explains "My food collages on Instagram started out as a way to showcase seasonal and local offerings from neighborhood farmers markets. It's evolved into an ongoing project in the study of plant design, exploration of color theory, and pure, unadulterated food-love. Let's be real–I like to play with my food. Thanks for letting me nerd out…". Safe to say I love the combinations of colour, fruit, veg and patterns Julie creates – they are a true feast for the eyes. A very different but effective theme. With over 132k followers it's not just me who likes it either! The photos can even be bought on her online shop here.
@jessicavwalsh
Theme: Bright abstract imagery and typography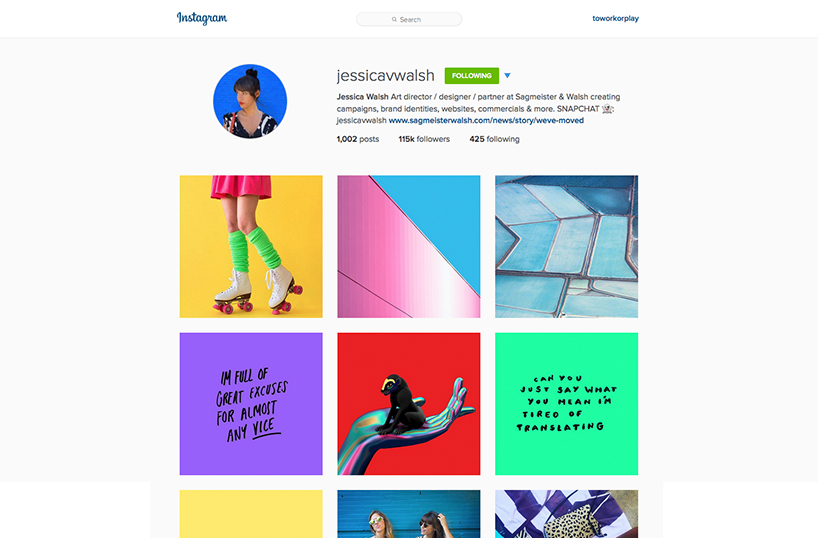 A while ago I wrote about the acclaimed designer Jessica Walsh (view here). Just as I wrote then, and still believe now, she's an inspirational mind full of crazy, but brilliant ideas. So it comes as no surprise that her Instagram account is a complete extension of her personality and design talents. Filled with personal photography, design projects and motivational typography her brightly coloured profile is a delight.
@piggyandpolly
Theme: Pups in stylish situations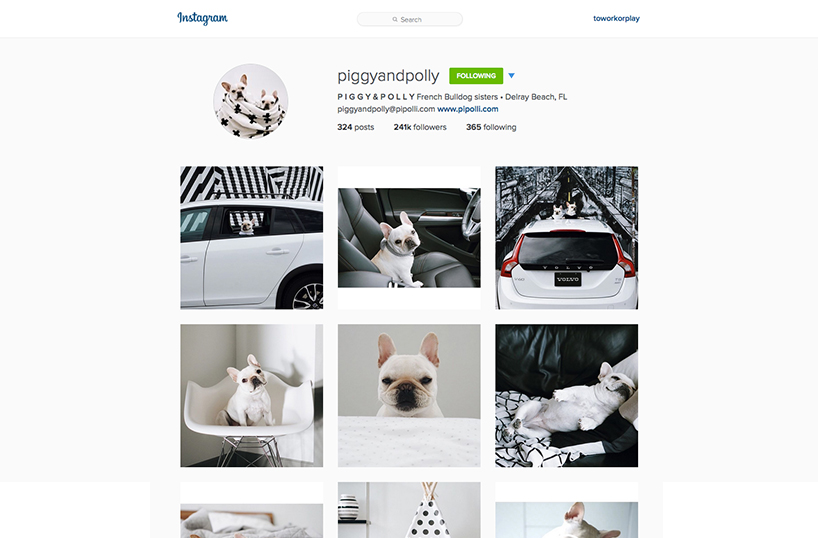 This stylish pair of French Bulldog sisters called Piggy (3 years old) and Polly (1 year old) and based in downtown district of Delray Beach, Florida are actually brand ambassadors for a brand called Pipolli. Inspired by the minimalism of Scandinavian Design, the Pipolli products blend simplicity and style with a goal to create items that make dogs and humans happy. Beautiful monochrome imagery compliments creative photos where the dogs take centre stage. The Pipolli range can be found here.
@fromwhereistand
Theme: People's feet in interesting spaces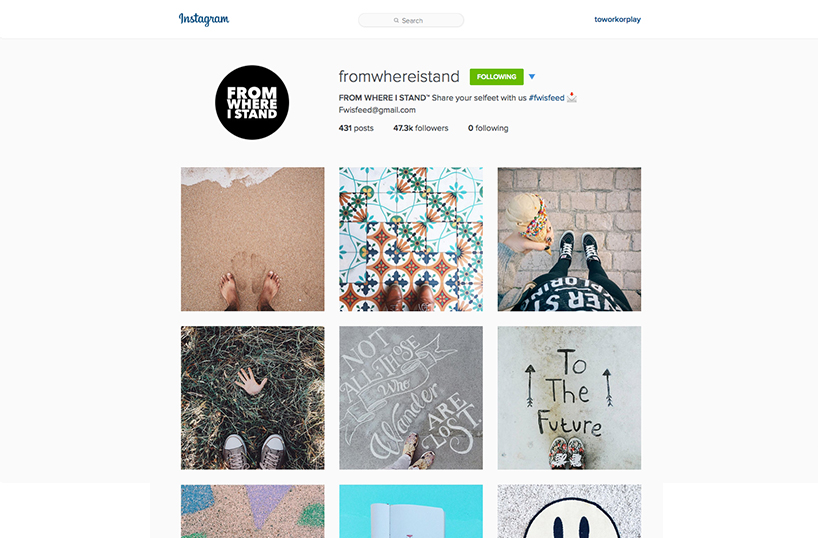 Regular Instagramers may have seen an influx of photos taken from above to reveal what you would see if that user looked down. This shot typically includes people standing in interesting places, on creative floors, great fashion and even the odd animal added into the equation. These photos are a collaboration of users pics snapping away to the hashtag #FromWhereIStand. This newer, and let's face it, more interesting take on a #selfie shows insight into that users world, without the vain nature the typical self portrait can hold.

@walids
Theme: Minimalist colours and food shot from above.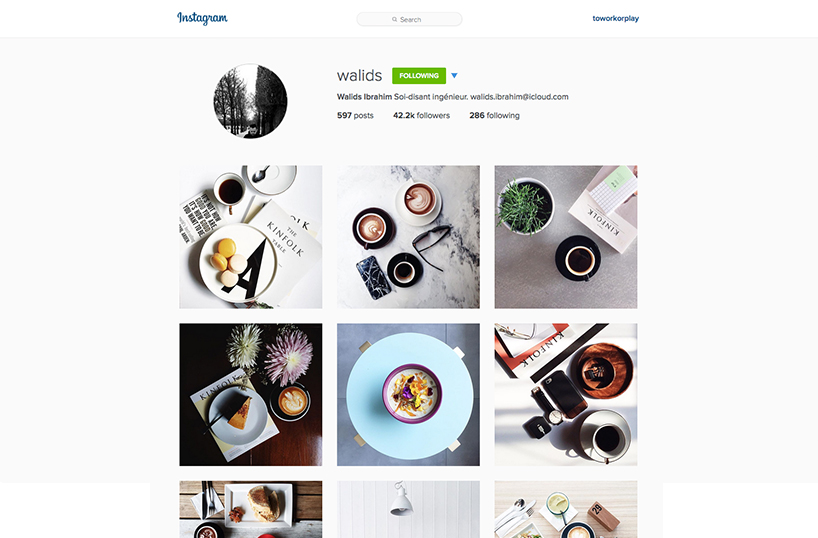 A collection of minimalistic shots of food, interiors, beautiful floors and the occasional picture of a furry friend. Lots of coffee snaps and scrumptious looking plates of grub to give you major #foodenvy! Each of these lovely images are accompanied by a quote.
@spielkkind
Theme: Using everyday items to create illustrative drawings
I love illustrations. I also love flowers. And I also love cute girly stuff (I have no shame in admitting this!). This account plays to all three of these loves and therefore had an instant appeal to my creative genes. Kerstin Hiestermann's minimalistic, playful and sometimes odd drawings are proof that, as she asserts, the child in her is still alive. She uses a clever combination of doodle like drawings and with everyday objects to bring each picture to life.
@amyventures
Theme: Bright abstract imagery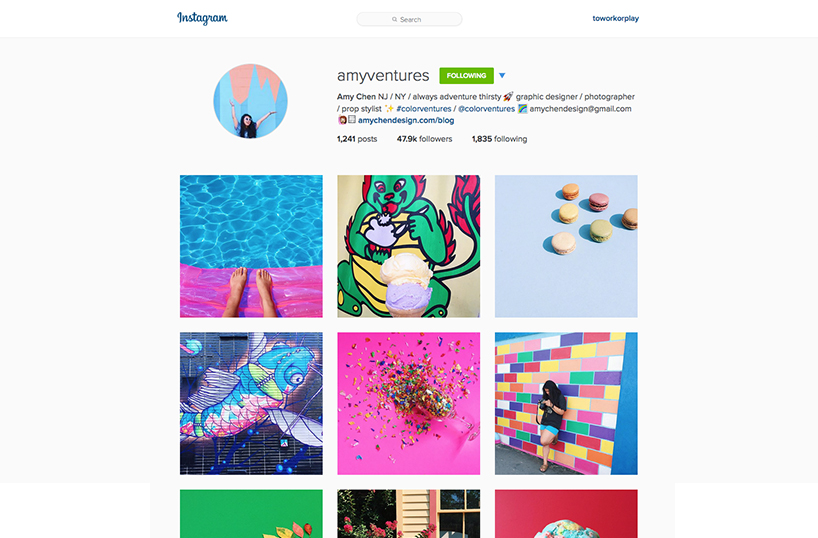 Another New York graphic designer with a bright and colourful series of images hinting towards the abstract category in most cases. Featuring anything from wall patterns, floors and pineapples, to food, flowers and cool designs. Very bright and very colourful. A great account to follow for a pop of colour on your feed.
@spritesoren
Theme: Yoga and Graffiti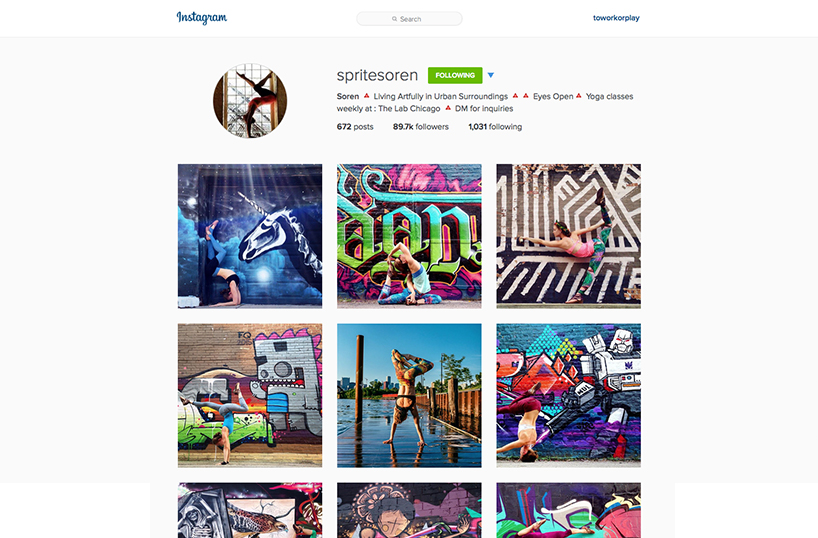 A beautiful account which marries yoga poses with striking graffiti from Chicago-based yoga instructor Soren Buchanan. This account is truly a delight for yoga lovers and design folk alike. In a recent post Buchanan said "I hope to accent the art, complement it with human interaction—and yoga provides endless possibilities for shapes and expression."
@oakandink
Theme: Pantone colour diaries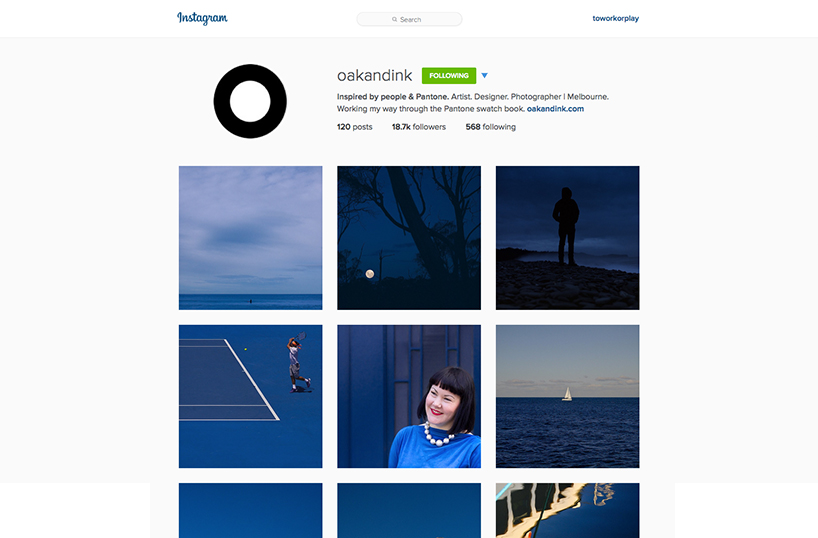 Melbourne-based artist Matthew Deutscher created an Instagram project which has seen him work his way through the PANTONE swatch book. Inspired by people and PANTONE colours Deutscher matches the photos he has taken to their PANTONE spot colour to create a colour coordinated visual delight. Great idea and theme (I wish I'd had the idea first!).
@ma_hovina
Theme: Dog in creative situations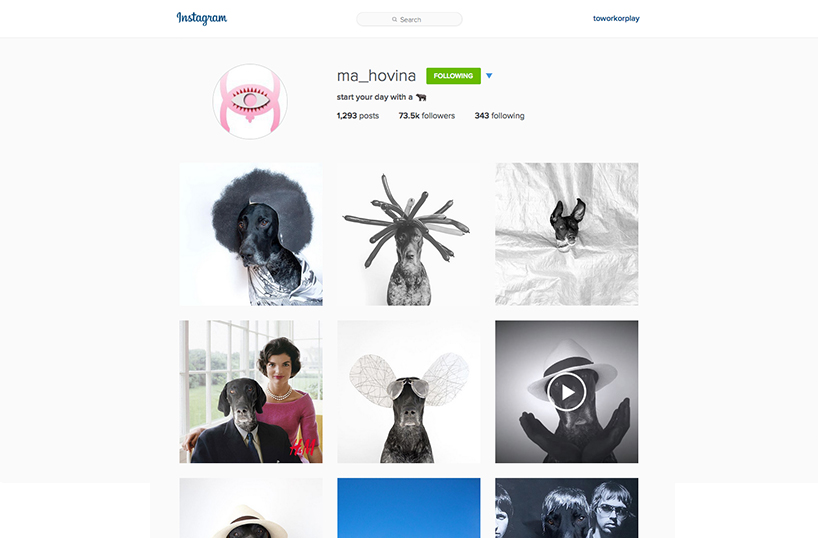 Lal the dog plays a perfect model for a quirky photo series created by owner Samuel Jurcic. In the surreal photos, Lal can be seen sporting various attire including wigs, hats and even flowers. There's also some rather weird, but wonderful shots of the pup Photoshopped into campaign posters for H&M, which Jurcic has cleverly renamed 'Hound & Maiden'.
@leesamantha
Theme: Creative food for children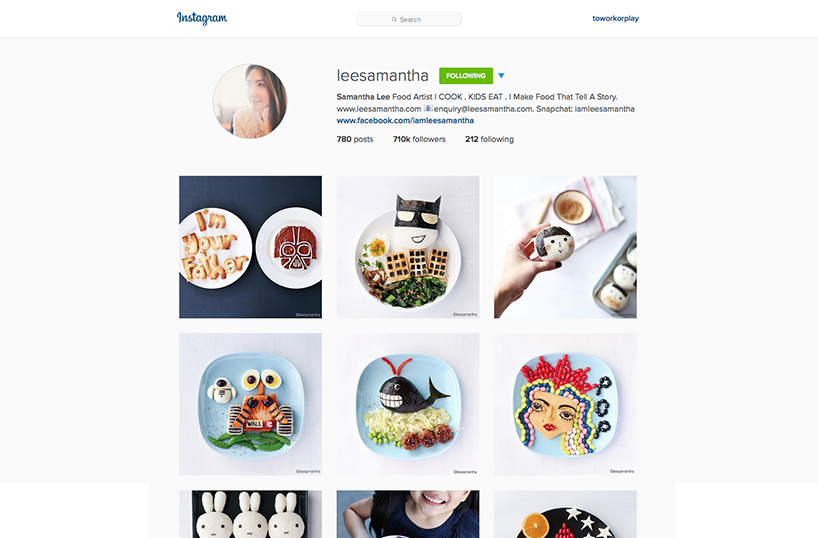 Lee Samantha is a Malaysian mother who creates fun and healthy meals for her two young daughters. Her creative and unique approach to mealtimes has gained her over half a million followers with the online food stars theme proving a hit with Instagramers worldwide. She started creating food art back in December 2008 to help her eldest daughter eat independently and adventurously, and started sharing her artwork on Instagram in 2011. An imaginative and creative theme makes art look good enough to eat!
@runnerkimhall
Theme: Pastel colour palette and whimsical imagery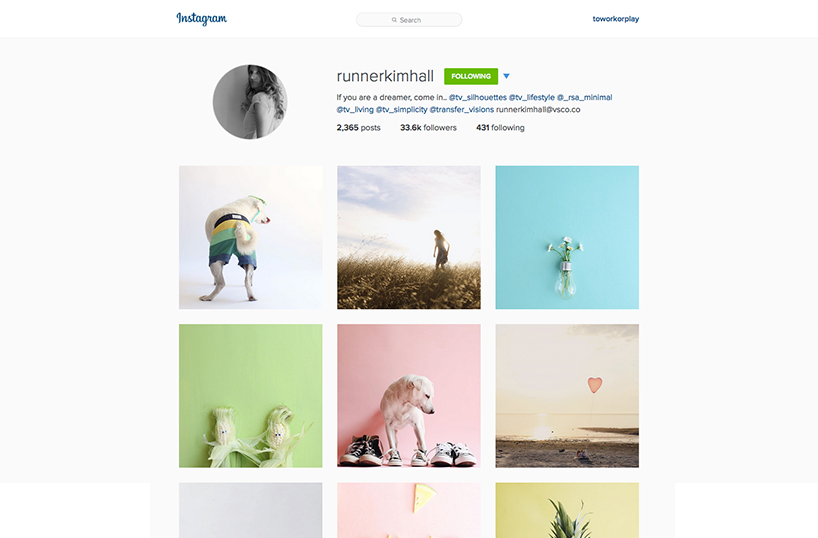 This account is a study of pastel colour through whimsical imagery. Dreamy images take centre stage with this theme built up of food, flowers and generally pretty things. I also love the often comical appearance from the cute white dog.
All in all Instagram theming seems to be a great way to not only stand out from the crowd and set a precedent, but to be creative while displaying a different take on the traditional portfolio. I will continue with my theme of creative inspiration, set to a peach/pink, turquoise/blue and monochrome palette (inspired by the TWOP colours… naturally!). Watch my progress here and let me know what you think! Check out my Instagram profile here.
Words by – Natalie Jahangiry
[Imagery courtesy of  Instagram accounts: @julieskitchen, @jessicavwalsh, @piggyandpolly, @fromwhereistand, @walids, @spielkkind, @amyventures, @spritesoren, @oakandink, @ma_hovina, @leesamantha & @runnerkimhall]